14 May 2023
Commemorating its 10th Anniversary, Jusoor Foundation Signs 5 Social Projects for OMR 3,26 Million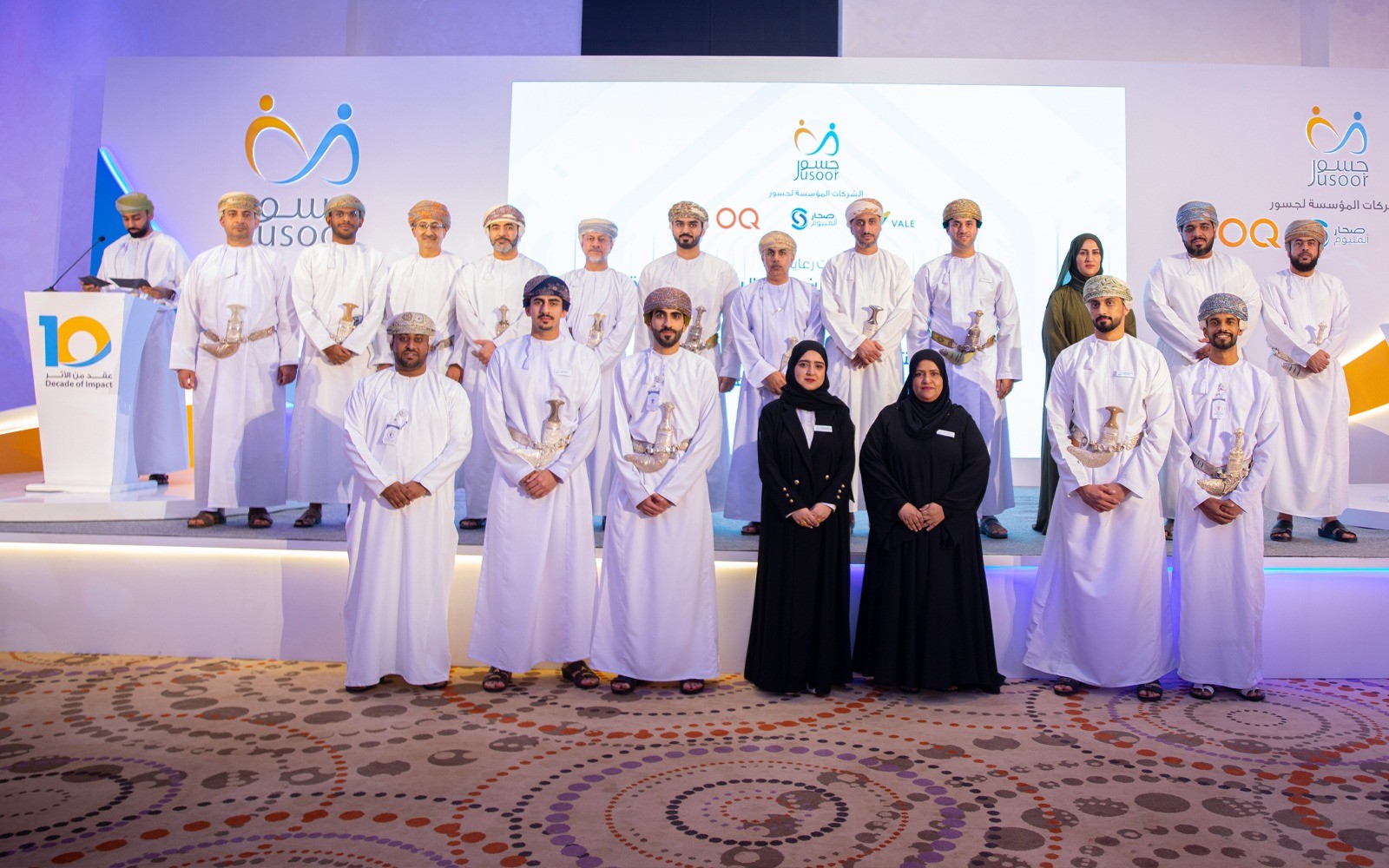 Suhar
Marking its 10th anniversary since founding, Jusoor celebrated today this remarkable occasion by signing a number of agreements for three million two hundred sixty thousand Omani Rials. The signing ceremony which took place at Radisson Blu Hotel in the Wilayat of Suhar, was under the patronage on H.E. Dr Hilal Ali Al Sabti, Minister of Health, and attended by H.E. Mohammed Sulaiman Al Kindi, Governor of North Al Batinah alongside with the excellencies, directors, and managers of the governorate's public and private sector entities.
The vision of the Foundation was stressed by H.E. Mohammed Sulaiman Al Kindi, Governor of North Al Batinah and Chairman of Jusoor Board of Directors, since its founding as an enabler to add value to Oman in general and its targeted communities in specific through the implementation of sustainable social and economic development programmes that are transparent and contributing to uplift the investing companies' reputation in our social efforts. This comes to reflect Jusoor's principle as a non-profit organisation with focus on corporate social responsibility and community development throughout adopting and implementing sustainable social projects; it represents the investment arm of Sohar Aluminium, Vale Oman Pelletizing Company and OQ.
"Jusoor Foundation is proud of this outstanding journey of community service. After setting its priorities in social investment and achieving an added value being surrounded with North Al Batinah community, Jusoor earnt its prominent position as a pioneering institution in social responsibility across Oman as it was able to implement about 62 social projects in various fields during the past 10 years for about 14 million Omani Riyals." His Excellency added. "The joined efforts represented in the partnering governmental institutions in Jusoor's social projects boosted the latter's impact and quality after following a systematic work methodology that proved fruitful during the past ten years. This year, the Foundation is working on implementing 5 strategic projects with investments of up to 3 million and 260 thousand Omani Riyals".
On his part, Jaber Suleiman Al Busaidi, Jusoor's Executive Manager, pointed out that there are four areas on which Jusoor Foundation has been focusing during the past years: entrepreneurship, education for employment, sports and culture and health and environment. He followed, "today, as we mark ten years after the founding of Jusoor, we are proud to be the leading institution when it comes to social responsibility as an investment arm to three major companies in the Sultanate of Oman: Sohar Aluminium, Vale Oman Pelletizing Company and OQ. We serve the community in which Jusoor is operating by providing social projects that meet the community requirements as well as achieving long-term strategic outcomes by sustaining such projects for all social groups".
The signing ceremony featured a video that showcases Jusoor's contributions during 10 years since founding in 2012. (62) social projects have been implemented, funded, and supported during this period with an investment value of over than OMR (14) as it covered all the wilayats of North Al Batinah Governorate. The ceremony also featured the launch of Jusoor Annual Report 2022 which highlights Jusoor's institutional performance during the same year, the progress of numerous social projects as well as statistics and outputs of the activities and events in which Jusoor contributed as a social institution that goes in incarnation to His Majesty
Sultan Haitham bin Tarik royal attention towards social responsibility. The ceremony also included the launch of the new website of Jusoor Foundation (www.jusoor.om), which is considered a platform and a main reference for all Jusoor Foundation's programs and activities.
On the sidelines of the ceremony, five social projects agreements were signed with a total cost of three million two hundred sixty thousand Omani Rials funded by Sohar Aluminium, Vale Oman Pelletizing Company and OQ. The first project is the establishment of a dialysis unit in Sohar Health Centre with an area of (2,138) sqm and costing OMR 1 million. The project components include the establishment of a specialised dialysis centre and providing full equipment and medical apparatus for dialysis with 2 treatment halls and (21) treatment beds alongside with 3 isolation rooms, a conference hall, a clinic and other administrative and service facilities. The project aims to establish and equip a specialized center for dialysis, raise the quality and efficiency of health services in North Batinah Governorate, as well as raise the capacity to serve patients on a daily basis and improve the scheduling of treatment appointments.
The second signed agreement is about Suwaiq Park project with a total cost of OMR 1 million with a construction area of (45,000) sqm funded by the three founding companies. The project consists of walking trails, landscaping, children's playgrounds, two padel playgrounds, main area with restaurants, prayer rooms and restrooms. Moreover, it includes seating areas, main entrance with instructions & information corner, fountains, food trucks area and tracks, shading, relaxing area, outdoor fitness equipment and a parking area. The project aims to become a tourism and amusement destination for families in Suwaiq, which is the largest and most populated wilayat of North Al Batinah Governorate.
The third project is Liwa Fish, Vegetables and Fruits Market. With an area of (4,303) sqm and cost of OMR 1 million, the market consists of Vegetables and Fruits section that has (46) stores selling fruits, vegetables, poultry, and meat as well as loading and unloading area, auction area, waste
disposal room, power room, pumping room, restrooms, admin office and a storage area. The other section includes (31) fish sales platform, (30) fish cleaning and cutting tables, waiting area, ice factory, auction area, fish grill store, disposal room, changing room, shower area, loading and unloading area, storage, parking area, restrooms, and admin office. The project aims at providing a modern market with full facilities to serve the local community wilayat of Liwa and the neighbouring wilayats as well offering the ideal healthy environment for the market sellers and visitors.
The fourth project is the establishment of the investment building of Suwaiq Sports Club with a cost of OMR (200,000) and an area of (1,092) sqm. The project includes the construction of the two-story investment building with two rental showrooms, 4 rental offices and basement parking area. The purpose behind this project is to provide a sustainable source of income that funds the club's sports and culture activities besides contributing to the support and improvement of its local teams.
The fifth project, costing OMR 60,000, is a building capacity training programme as part of (Blender) 3D printing and animation training programme. It seeks to qualify Omani youth in the Governorate of North Al Batinah to build their skill capacity by undertaking an intensive training, besides supporting the elite outputs by supplying them with high-specs computer devices for designing, so they can keep pace with the learning journey by joining the market as freelancers or business owners to generate income and attract business. The programme's objective is to train 30 youngsters divided into 3 batches within 8 months. The purpose of this project is building a learning-driven community with the ability to innovate, programme and provide solutions in all fields as well as creating a culture built around new fields of knowledge that aligns with Oman Vision 2040.
Moreover, the ceremony featured signing two memorandums of understanding. The first memorandum of understanding was between Jusoor Foundation and the Fund for Development of Youth Projects
(Sharakah) aiming to promote the development of SMEs by leveraging the expertise and resources available to both parties to support the growth of SMEs and foster sustainable development in Oman. This agreement includes areas in which the two parties will cooperate, including co-financing social investment projects, co-sponsorship of small business development programmes, providing ideas for the small business sector and cooperation in media and marketing.
The second memorandum of understanding signed between Jusoor Foundation and the University of Technology and Applied Sciences in Shinas aiming to enhance cooperation and benefit between the two parties, utilize the university's facilities and faculty for training and research purposes and provide consulting services based on the experience of employees. Jusoor will also provide training opportunities for university students to bridge the gap between the outputs of higher education and the job market, in addition to participating in presenting working papers and attracting college outputs for employment according to available opportunities.